Build it and they will come? That movie magic might work for baseball diamonds in Iowa corn fields, but in the real world, people won't be checking out your website just because it exists. To bring in a steady stream of traffic, you need to follow a few specific steps.
Here are 5 ways to get more eyeballs on your website. We'll back up these details with data-driven reasons these methods are so effective.
1. SEO
SEO stands for Search Engine Optimization, and it'll help your target audience actually find you on search engines.
On-site and off-site SEO will also help your website rank higher on search result pages. The higher your ranking, the better chance people will discover your site.
A key piece of on-site SEO is keyword research. A keyword is a phrase your ideal customer might enter into search engines. Once you find relevant keywords, you need to strategically pepper them throughout your website — without overusing them. This'll help search engines notice and add your site to the results search page.
Studies show that on-page SEO content (hello keywords) increases site traffic by as much as 2000%.
2. Digital Advertising
Advertising is all about connecting, and the internet is the ultimate connector. Here are two digital marketing methods that are pretty rewarding.
Social Media Marketing
Social media makes up 31% of all referral traffic. To get in on the action, encourage your audience to interact with your brand.
The goal here is to drive conversation. Engaging with your target audience will ignite their curiosity so they'll visit your website.
Video content is a potent way to motivate your audience to visit your website. 87% of marketers say video has helped increase site traffic.
PPC (Paid Search Marketing)
With paid search marketing (Pay-Per-Click), you run ads on search engines by paying a fee. Like SEO, it lets you to reach your audience when they're looking for a product or service like yours.
Research shows that search contributes to a large portion of website traffic. According to Google AI, 88% of traffic generated from ads is not replaced when ads are turned off.
3. Content Marketing
Publishing content is one of the most effective ways to generate traffic and brand visibility. Websites with a blog have 434% more indexed pages than those without. Also, businesses who blog get 3.5 times more traffic than those who don't hit that publish button.
With keywords tailored to your specific audience, content marketing becomes a powerful tool, making it easier for your target customer to find you fast.
4. Google My Business Listing
Google My Business lets you manage your business listing on Google. When you optimize your Google My Business listing, your business information will show up in relevant searches, boosting traffic to your site.
The average business receives 1,260 views each month. Out of those views, 5% of them result in a website click or direct request.
5. Radio and TV Advertising
Sure, digital marketing is the primary source of all website traffic, but traditional radio and TV campaigns can be effective when used simultaneously with a digital marketing campaign.
One case study completed by PortMA Marketing Analytics found that radio advertising drove website traffic and increased conversion rates at a lower cost than other offline media.
In another study, businesses who increased their TV ad spending by 22% saw a 24% rise in website traffic.
Quick Recap
Getting more website visitors takes strategic planning; creating content or including keywords that'll reach and attract your target audience.
To learn more about how even just one tactic will boost your website traffic, contact us HERE.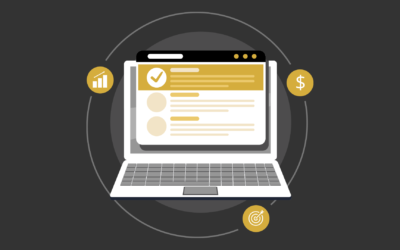 What is local listings management? Anytime you review and update your business information online, that's Local Listings Management. We're talking location, website, contact info, and all other details listed by online directories. Online listings have four pieces of...