If your business is online you've probably heard of digital advertising and the benefits it can bring to your business. And if not… well, you're about to.
We'll cover these important questions:
What is digital advertising, anyway?
How can digital advertising impact my business?
Are there different types of digital advertising?
Do I need to hire an expert to use digital advertising?
What are the pros and cons of outsourcing my digital advertising?
How can I measure my return on ad spend?
Alright, let's get into the beneficial business of digital advertising.
What is digital advertising?
WebFX defines digital advertising as "a targeted, data-driven advertising strategy for reaching consumers in every stage of the buying funnel and moving them from one stage of the buying funnel to the next."
So, from the moment potential customers become aware of your business, you're driving revenue through digital advertising channels like Google, Facebook, Instagram, and LinkedIn.
These ads will require maintenance, testing, and tweaking to find the right combination that works best for your business, but once you get the hang of it, a good digital advertising strategy can be your greatest asset and business game-changer.
How can digital advertising impact my business?
If your business is looking to build (and strengthen) an online presence, digital advertising can be transformative.
Because digital advertising is targeted, you're able to reach your desired consumers fairly easily, and can tailor your messaging, too. It's especially helpful if there are areas of your business that customers don't even know about, or if you're trying to sell a new product or break into a new segment.
Digital advertising is also one of the easiest measurable forms of marketing. Because it's highly targeted and based on engagement, clicks, or other measurable performance indicators, it's easy to get accurate performance stats.
Are there different types of digital advertising?
You betcha. There are four primary types of digital advertising:
Display – includes all types of online ads that aren't search or social. So if you advertise on YouTube, use a banner ad on an affiliate website, or pay to be featured on a relevant industry website, you're using display advertising. This is arguably one of the most effective forms of digital advertising since up to 90% of users have said display advertising affected their purchase decisions.
Search – search engine advertising is exactly what it sounds like: promoting your business on a search engine. Here, your business will appear in search results for a specific location or search term(s) on sites like Google, Bing, or Yahoo. SEO and Content Marketing are other ways to boost your appearance in search engines without using paid search ads.
Social – social advertising means using a platform like Facebook, Instagram, or Pinterest to create an ad that'll appear on social media. This is great if you have an existing audience on social media or want to target users that are similar to your existing audience. The media in your ads here could be video, image, or text-based.
Retargeting – retargeting involves running ads to remind your website visitors of your product after they leave your site. You can run these types of ads through Google, Facebook, LinkedIn, and other platforms that offer retargeting.
Do I need to hire an expert to use digital advertising?
You can learn these digital advertising techniques on your own, but you need to know it'll take testing, time, and experience before they pay off. Hiring an expert is the most straightforward way to get results quickly, but if you have the time to learn these tactics yourself, you can give it a go.
What are the pros of outsourcing my digital advertising?
Here are a few of the most common pros a of outsourcing your digital advertising to another team or freelancer. If you've worked with freelancers or agencies before, you'll have a pretty good understanding of what it'll be like to run your digital advertising through an external team.
Pros
You can focus on other areas of your business
It's cost-effective because of their expertise
They have experience in the industry
They're accountable for their results
How can I measure my return on ad spend?
Your Return on Ad Spend (or ROAS) is a valuable metric that should be consulted regularly to ensure you're getting the most "bang for your buck" in terms of digital ads. It's actually fairly easy to calculate if you know all the components.
Basically, ROAS = total conversion value / advertising costs
The total conversion value is the amount of revenue your business earns from a given conversion. So if it costs you $20 in Facebook advertising to sell one $100 product, your ROAS will be 5. This means that for every $1 spent on advertising your company earns $5 back in revenue.
Keeping track of this number and conducting an ROAS for each digital advertising channel you select is crucial to keeping your business in the black while executing your digital advertising strategy.
The bottom line
To promote your business online and hopefully make conversions that turn into cold hard cash, there are a few different avenues of digital advertising you could pursue. It could take a lot of trial and error before you get it right. To choose an effective strategy from the outset, it pays to go with a digital advertising expert. Get in touch with a Homefield Marketing Advisor, here.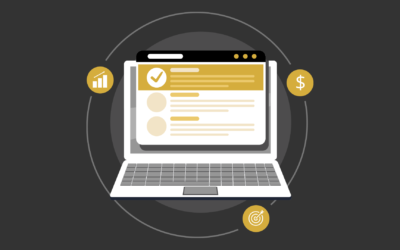 What is local listings management? Anytime you review and update your business information online, that's Local Listings Management. We're talking location, website, contact info, and all other details listed by online directories. Online listings have four pieces of...